You are here
Professional Goes To Campus Program Innovation and Creativity Of Enterpreneurship
Primary tabs
Submitted by

admin

on Thu, 2021-12-16 15:47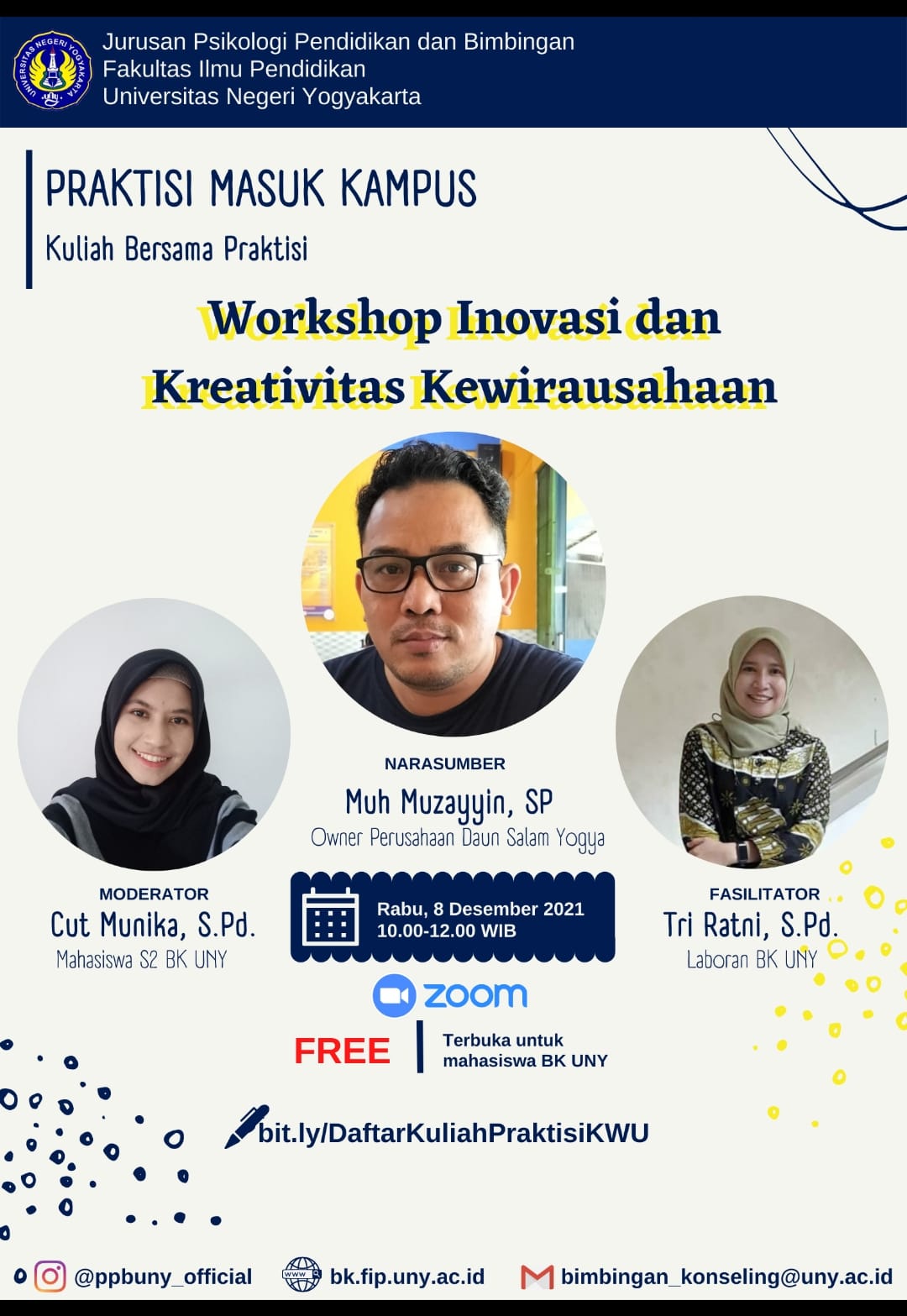 This program is an activity of one of the Independent Curriculum, as well as the Guidance and Counselling Department. Furthermore, the implementation of this program is aligned with courses that are in accordance with the topics presented by a professional. One of the masters who was asked to be a resource person was Muh. Muzayyin, S.P., an entrepreneur in the field of processed fish with the trademark Mina Tayu Yogyakarta. The selection of that a professional is to adding insight of students in the Innovation and Entrepreneurship Creativity subject.
The implementation of the program was held in 2 meetings with a different focus on each meeting and it was a continuing material. The first meeting was on December 9, 2021 with the subject of Entrepreneurship, with approximately 110 students participating. While the second meeting on December 15, 2021, the material presented was about Product Marketing, the participants who attended were around 100 students.
In general, the presentation of the material on the first day focused more on how to find the potential in yourself, so it could be identified in entrepreneurship. Moreover, his stated that while the participants were students of Guidance and Counselling program, it was important to recognize the potential for innovation and creativity in themselves. The professional expectation is that by recognizing the "mapping", students can develop themselves in the world of entrepreneurship. In addition, he talked around the process of starting a dealing that is currently being carried out. The process of discovering the potential that exists within him to selecting a product in his production.
In second time, continuing with the Marketing themes, how the products that had been produced were marketed. This is related to target consumers, selling prices to consumers, and where they will be marketed. Afterwards, it is also explained how the industry developed, then received complaints from customers, including the termination of work partners to some of their customers. The story continues about the COVID-19 pandemic in 2020 until now, turnover has declined and how to survive during pandemic.
Finally, based on that workshop, the enthusiasm of students was extraordinary. This is shown from the questions, responses, and their statements. Students realize that it is important to design their career with various options. Briefly that this program is significance for Guidance and Counselling students. On the other hand, this is could be requiring for Guidance and Counselling Department, a particular to improve the Career Guidance studies by presenting a professional. (end)
Contact Us
Guidance and Counseling Study Program, Faculty of Education UNY
Colombo Street No. 1 Yogyakarta 55281,